34970A Data Acquisition/Switch Unit (Rental)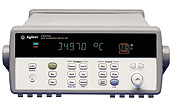 The 34970A is a 3-slot mainframe built-in 6½ digit multimeter and provides flexibility with a choice of 8 switch and control, pplug-in modules. Built in GPIB and RS-232 interfaces make connection easy. PC Benchlink application software included. The rental includes either a 34908A 40-Channel Multiplexer module or a 34902A 16-Channel Multiplexer
34908A 40-Channel Multiplexer
Use the 34908A for the greatest density in common-low applications, such as battery test, component characterization and benchtop testing. Each module switches 40 one-wire inputs. All two-wire internal measurements except current are supported. the module low connection is isolated from earth and can float up to 300V.
34902A 16-Channel Multiplexer
the 34902A employs reed relays to acheive scan rates up to 250 channels-per-second. use the module for high-throughput automated test applicatikon as well as high-speed data logging and monitoring tasks. Sixteen two-wire inputs switch up to 300 V. Two and four-wire channels may be mixed on the same module. User provided shunt resistors are required for current measurements.
Product status: Available